Young offender absconds from Polmont after leave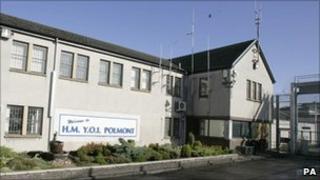 Police have appealed for information about a man who has absconded from Polmont Young Offenders Institution.
Matthew McCann, 19, had been granted leave over Christmas but failed to return on Friday 27 December.
Officers have started local inquiries in an effort to trace McCann, who was expected to spend his leave in the Glasgow area.
Police said there was nothing to indicate he posed a danger to the public.
Insp Billy Drummond of Police Scotland said: "Matthew McCann knew he was due to return to Polmont but chose not to.
"His failure to report back is a clear breach of the terms of his day release and anyone who can help us locate him is asked to contact police immediately.
"There is no evidence to suggest McCann poses a risk to the public. However, anyone who sees him is asked to contact police immediately."