Dundee Airport's only scheduled flights to end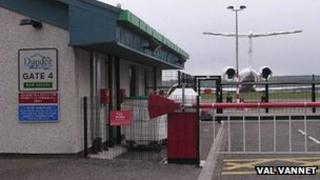 Dundee Airport's only scheduled passenger service is to end in the new year.
Cityjet operates two return flights a day between Dundee and London City airports.
But high prices compared to flights from Edinburgh has meant the route has struggled to attract passengers.
Cityjet has now informed Dundee Airport operator Highlands and Islands Airports that it will pull out of the service.
The city council said it was working with the Scottish government and the airport to find a new airline to take on the London route.
Cityjet made no comment other than that they would publish their new timetable in January.
Earlier this month, a survival plan aimed at ensuring the airport's future was published by Transport Scotland.
Securing the Cityjet service to London was one of the plan's key objectives.
A Transport Scotland spokesman said: "We are disappointed by Cityjet's decision, but efforts are already under way to find an operator for a new Dundee-London route.
"Transport Scotland is working in partnership with HIAL and Dundee City Council to ensure this important service is maintained as it will play a key role in the long term future of the airport.
"The recent Dundee Airport scoping study outlined a series of measures aimed at maximising the potential of Dundee Airport and we are considering all the recommendations in the report."
Loganair withdrew its scheduled services from Dundee to Belfast and Birmingham last year because of a decline in passenger numbers.