'Jet-set' teenager Reece Scobie admits more cons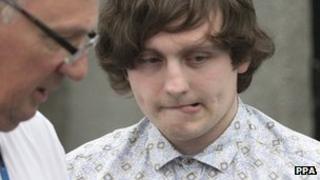 A teenage conman who lived a jet-set lifestyle on stolen credit cards has admitted a further series of frauds.
Reece Scobie, who was 19 at the time, is currently serving a 16-month sentence in Scotland for fraudulently funding a globetrotting lifestyle.
He has now admitted a further nine charges, which included using stolen credit cards to book trains, flights and hotel accommodation.
Sentence was deferred at Southwark Crown Court in London.
The court heard Scobie, from Rait in Perthshire, used popular websites, such as trainline.com and ebooker.com to fund and travel the globe.
Kieran Moroney, defending, said that Scobie was currently appealing his conviction for his previous fraud offences which netted more than £70,000.
Travel agent
Judge John Price told Scobie: "You are serving a sentence in Scotland, you are appealing against that sentence and we don't know what is going to happen with that so I am going to grant you technical bail to get you back to Scotland and to help you get things sorted out as quickly as we can.
"As soon as you are released in Scotland you must notify this court of your date of release".
Scobie was jailed at Perth Sheriff Court in October after being compared to Leonardo Di Caprio's conman character in the film Catch Me If You Can.
The court was told Scobie's con started within weeks of him being taken on as a trainee travel agent by Thomson Travel in the St John's Shopping Centre in Perth.
He was able to access accounts and passwords allowing him to book flights and accommodation.
Among the trips he took were business class flights to Singapore and Los Angeles.
He also booked round the world trips, taking in locations such as Dubai, Auckland, Atlanta, New York and Vancouver.
He was eventually caught while on a trip to Los Angeles.