Minnie the Minx scores first sole Beano cover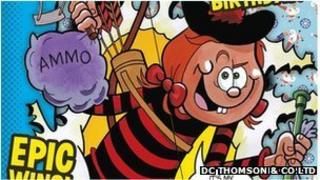 The Beano is to mark one of its most iconic character's 60th birthday by dedicating its cover to her alone for the first time since it began in 1938.
Minnie the Minx, who was first introduced on 19 December 1953, was described as "wild as wild can be" in one of her first captions.
She was created by Leo Baxendale to be a female version of Dennis the Menace.
Publisher DC Thomson said she was a female warrior, equal to any of the boys around her.
In 1953, Minnie was given only six panels in black and white.
However, she soon became a regular character in The Beano when her brand of bad behaviour proved as popular with boys as girls.
This year's Christmas edition features the Beanotown gang who throw Minnie a surprise birthday party.
Beano editor Mike Stirling said: "We can't quite believe its Minnie's 60th anniversary - she looks so young.
"The Christmas issue cover is the most coveted of the year in Beanotown.
"It usually stars Dennis and some of the gang. Dennis and Gnasher were not happy that it's all about Minnie this year."
Alongside The Beano's regular strips, the Christmas issue also features Will.i.am the Conqueror, How The Cowell Stole Christmas, Dec-k The Halls and The Numskulls taking over Santa's brain with disastrous consequences.