Stirling to host Scotland's Holocaust Memorial Day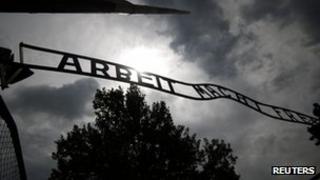 Stirling is to host Scotland's national Holocaust Memorial Day in January.
The event will form part of the UK's national programme dedicated to those who died in the Holocaust and genocides in Cambodia, Bosnia and Darfur.
More than 2,000 local activities will be held, with the main Scottish event being staged at Stirling's Macrobert Arts Centre.
Holocaust Memorial Day takes place on 27 January each year to mark the liberation of Auschwitz-Birkenau.
The theme of the 2014 event will be 'Journeys', with guest speakers including Arn Chorn Pond, who escaped from Cambodia after being held by the Khmer Rouge and Alfred Munzer who was separated from his family and kept in hiding during the Holocaust.
'Terrible suffering'
Event organisers are also encouraging people to become involved with the day by submitting messages of hope, peace, and pledges to stop prejudice.
They will be displayed on the day and online.
Dr Maureen Sier, director of Interfaith Scotland, said: "It's impossible to imagine but imperative to remember the terrible suffering of fellow human beings who were murdered, tortured and brutalised during the Holocaust and subsequent genocides.
"Interfaith Scotland is honoured to be able to work with others to ensure that Scotland not only plays its part in remembering but that it also learns from such atrocities."
Stirling's Provost Mike Robbins added: "Holocaust Memorial Day is hugely significant and we are honoured to be hosting the Scottish national event in Stirling.
"I am pleased that so many people from across Scotland will join us in Stirling to share stories, learn from our past, and look to building a positive future and a vision for a tolerant society."