Dow to shut Grangemouth chemicals plant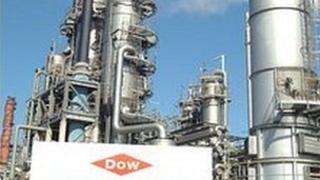 Dow Chemical has announced plans to close its Grangemouth plant with the loss of 66 full-time jobs.
The company, which makes impact modifiers used in the packaging and construction industries, blamed the decision on economic uncertainty.
It is to launch a consultation with staff at the plant in the new year.
The news means the plant, which first went into production under Borg Warner Chemicals in 1980, would cease manufacturing by June 2014.
It comes less than two months after the petrochemical giant Ineos reversed a decision to close its operation on the neighbouring site.
Dow Chemical staff were told of the decision to cease manufacturing and close the facility at a meeting on Tuesday evening.
In a statement, the company said the proposal was the "consequence of ongoing economic uncertainty, which had resulted in a significant deterioration of demand."
'Increasingly tough'
The statement added: "When coupled with increases in manufacturing costs, competition, fluctuating raw material and energy prices, the facility has been operating in an increasingly challenging environment."
The firm said it would work with local agencies to help in the re-employment of its highly-skilled workforce.
Site director, Lluis Argilaguet said: "Naturally we are deeply saddened by the news that we are proposing to stop production here at Grangemouth.
"We have a fantastic team and we have fought hard to keep the site as competitive as possible in an increasingly tough operating environment.
"However, the current economic climate means we feel we cannot sustain an economically viable site. I understand that this is a difficult time to hear such news."
Falkirk East MSP Angus MacDonald said he had contacted the enterprise minister Fergus Ewing to meet to discuss the issue.
He said: "This is the last news anyone wants to hear at any time of year, and particularly not in the week before Christmas."
Mr MacDonald said he was also seeking a meeting with Dow management to ensure workers were given the appropriate support.