Mountaineers call for action over Glen Lyon access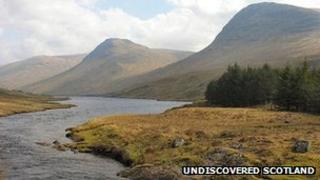 A mountaineering organisation is calling for action to stop a Perthshire landowner blocking access to his land.
The Mountaineering Council of Scotland said the owner of the North Chesthill Estate in Inverar had been hindering walkers on his estate for years.
They have written to local MSP and Scottish Finance Secretary John Swinney over the issue.
Renowned for its natural beauty, the glen is home to a popular circuit of four Munros.
The organisation claimed that walkers in Glen Lyon had faced locked gates, intimidating signs and abusive behaviour when venturing onto the estate.
Laws 'devalued'
In a letter to Mr Swinney, David Gibson, chief officer for the MCofS, said: "The North Chesthill Estate has been restricting the statutory right of access for many years.
"There has been a considerable amount of time spent by several organisations in endeavouring to solve the issue of locked gates, intimidatory signs and abusive behaviour, but this still continues.
"Perth and Kinross Council, the Perth and Kinross Local Access Forum, Ramblers Scotland and the Mountaineering Council of Scotland have all been involved in discussions with the owner but he still continues to lock gates and erect signs stating 'Deer management in progress - please walk elsewhere'.
"The locked gates and signs effectively close the whole estate to access."
Mr Gibson said Scotland's access legislation was being "undermined and devalued" by the action.
He added: "Many walkers travel a significant distance to access the hills and in 2009 the value to the Scottish economy from walking tourism was estimated to be £533m per year."
Alastair Riddell, who owns the Chesthill Estate, acknowledged there had been an issue with public access to the estate for a while.
However, he said there was a clear conflict of interest between the rights of the public to roam on his land and his right to make a living from the estate.
He said: "In the past few years my business has been reduced by two thirds because of the pressures created by irresponsible walkers on the estate.
"When we ask people to comply with the access code, they don't tend to act terribly responsibly.
"For example, on Saturday we had put notices up that there was deer stalking on the estate. But a group of people deliberately parked away from the sign and walked up the middle of the estate.
"By doing so they chased away one of my small remaining deer herd and the people who had paid money to stalk on the estate were left disappointed."
Mr Riddell said there was an "imbalance" between what was sustainable for an estate owner and the access code.
Current laws state that everyone in Scotland can exercise access rights over most land and inland water in Scotland, at any time of day or night, providing they do so responsibly.