Falkirk Council cuts wheelie bin collections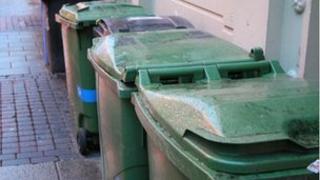 Falkirk Council is to cut the number of bin collections of general household waste to once every three weeks from next April.
The local authority currently collects green bin waste once every fortnight.
However, following a meeting of councillors on Wednesday, members voted to reduce that in an effort to boost recycling rates among householders.
Last year the authority landfilled 32,000 tonnes of waste at a cost of £2.5m.
It said that landfill charges were increasing, with the cost of disposing household waste set to rise by an estimated £300,000 by 2014 if recycling was not stepped up.
'Public services'
Falkirk Council recycled 52.7% of all household waste in 2011, ahead of the 50% target set by the Scottish government.
However, ministers want councils to recycle 60% of waste by 2020 and 70% by 2025.
Falkirk councillor Dr Craig Martin said the change in waste collections could have significant savings for the authority.
He added: "There need to be massive changes if we are to reach the target of 60% household waste recycled by 2020.
"We need to find ways to make savings without hitting public services and this change in the bin system would go a long way towards doing this. We estimate it could save us £1.4m per year.
"It is costing us £10,000 per day to send rubbish to landfill and with this new system we have the potential to reduce that by £3,500 per day if everyone uses their recycling bins to their full potential."
Despite the decrease in general waste collections, collections of recycling bins for paper and glass will remain the same, with food waste collected on a weekly basis.