Work begins on 2014 Games shooting range venue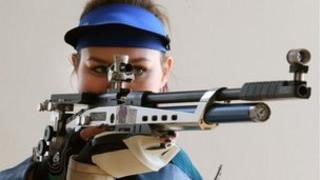 Work to transform the Ministry of Defence shooting range in Angus into a venue for the Glasgow 2014 Commonwealth Games has begun.
The Barry Buddon range in Carnoustie will host all the shooting events, due to take place from 23 July to 3 August.
The site currently serves as an infantry training area with 21 ranges capable of supporting small arms, heavy machine gun and medium mortars.
Shooting is one of 17 sports that make up the Glasgow 2014 Commonwealth Games.
The MoD range was previously used for the full-bore rifle contest during the Edinburgh Games in 1986. However, all events, including clay target and pistol and small bore, will take place in Angus at next year's games.
The MoD said that in the mean time, the ranges would remain fully operational to military users.
Glasgow 2014 chief executive, David Grevemberg, said: "We are pleased to have concluded negotiations for the use of Barry Buddon and are grateful to the Ministry of Defence for their support of the Glasgow 2014 Commonwealth Games."
"Barry Buddon will be a world-class venue for the shooting competition at the games and represents an opportunity for those outside of Glasgow to be part of the celebrations."
The planning application to create the additional temporary ranges at Barry Buddon was approved by Angus Council earlier this year.