Survival plan to secure Dundee Airport future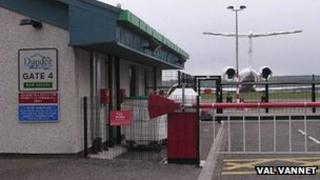 A survival plan aimed at ensuring the future of Dundee Airport has been published by Transport Scotland.
It identifies measures, including securing the current Cityjet daily service to London, as key to the airport's future.
Ministers estimate that the cost of implementing the plan could top £600,000 over the next five years.
It comes after figures published in October showed passenger numbers at the airport were falling.
Current figures suggest about 50,000 passengers use the airport each year.
'Aviation history'
However, the vast majority of potential passengers living in the airport's catchment area travel to Edinburgh or Glasgow for flights.
The report recommends stabilising current revenues as well as increasing passenger numbers at the airport over the next 12 months.
It said work was already under way to secure the existing service from Dundee to London.
In the medium term, the report said new routes with other airlines should be added, as well as giving consideration to gaining new business from growth sectors such as offshore renewables.
Transport Minister Keith Brown said: "The airport faces a challenge in the increasingly competitive aviation market, so it's important we look at all the available options to encourage more passengers and businesses to use it.
"Securing the future of the service between Dundee and London is the top priority for the airport and the Scottish government.
"This study also highlights a number of commercial opportunities - like engaging with companies in the offshore renewables sector - which could give Dundee Airport a unique place in Scotland's aviation industry."
Last year Loganair withdrew its scheduled services from Dundee to Belfast and Birmingham because of a decline in passenger numbers.
Inglis Lyon, managing director of Highlands and Islands Airports Ltd, which operates the airport, said: "There is no doubt that Dundee Airport faces a number of competitive challenges.
"However, there are opportunities which we are currently pursuing to attract new business to the airport, including renewables and general aviation, and efforts to attract new scheduled services continue."