2 Sisters poultry firm says rescue plan 'could create jobs'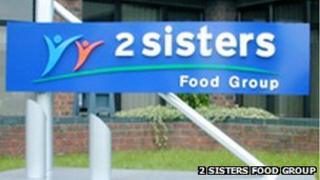 A poultry company behind plans to cut 200 staff at its Perth and Kinross processing plant has said a proposed rescue plan could create jobs.
The news comes two weeks after the 2 Sisters food group said 200 of its 658 staff at Coupar Angus would go.
The company has blamed an over-supply of chicken and falling consumer demand.
However, in a statement the company said that, if supported, its rescue plan could increase poultry processing by 40% and create hundreds of new jobs.
The 2 Sisters group said that at present its Coupar Angus site was making substantial losses.
They have begun a 45-day consultation, with plans to cut the workforce due to take effect in the new year.
Despite that, a statement from 2 Sisters said: "We are continuing to work hard with the Scottish government to bring about a sustainable future for the poultry industry in Scotland, and have held several meeting with ministers in the past week.
'Selected farms'
"The good news we can report today is that our rescue plan, if supported by all stakeholders in our supply chain, has the potential to increase Scottish poultry processing by 40% and create several hundred new jobs.
"However, this situation cannot be brought about in the immediate term. This aspiration will not be achieved without making the necessary changes in our processing plants and our agricultural base, plus the commitment of all interested parties."
The company said it expected to hold discussions with contractors by early next week.
But, it added: "There will inevitably be an initial reduction in the number of farmers we require, but this will be spread out across the growing base.
"Selected farms will be chosen based on investment, quality performance and distance to markets, and we can confirm that new contracts will be offered to some contract growers in the coming weeks."
The 2 Sisters group, which has 49 manufacturing sites, said it had also found a buyer for its smaller chicken processing plant at Letham, near Forfar, in Angus.