Dundee University bans payday lender adverts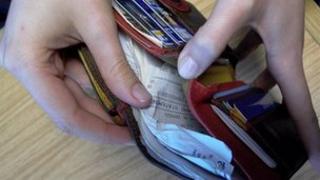 Students at the University of Dundee have voted to ban advertisements from payday loan companies on campus.
The university's Student Representative Council (SRC) said the decision followed an intense campaign from student groups over the past month.
They want students in financial difficulty to seek help from the university's funding unit instead.
The move follows a campaign by the National Union of Students to banish the adverts at all UK universities.
Their research found that 10% of students in vulnerable groups had accessed high-risk debt, including payday loans, cash-a-cheque and doorstep loans.
Tim Hustler, from the Dundee University Students Association, said: "Payday loans are a growing problem on campus due to how easy it is to access the forms online with no face-to-face interaction.
"It was the aim of both our campaign and this motion to encourage students not to use these services and to instead direct them to the financial support offered by the student funding unit who can offer emergency loans and grants, as well as offer advice."