2 Sisters poultry plant plans hit farmer's contracts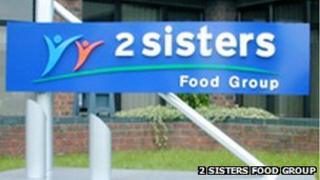 Poultry farmers who supply the 2 Sisters processing plants in Perth and Kinross and Angus have been told their contracts will be cancelled.
It comes after workers at the chicken processing plant in Coupar Angus were told last week that 200 staff would lose their jobs.
Rural Affairs Secretary Richard Lochhead said the latest news had major implications for the industry.
He said a working group to examine its future in Scotland would be set up.
Mr Lochhead said he had met with farmers affected by the 2 Sisters' announcement.
He said: "As well as the anticipated 200 job losses in Coupar Angus, poultry farmers supplying this plant and in Letham have been told that their contracts will be effectively cancelled from early next year.
"These are businesses who have been encouraged one minute to invest millions of pounds upgrading their facilities, and the next minute are facing an uncertain future with no buyer for their chickens.
"This clearly has severe implications for the whole supply chain including grain producers and hauliers."
Mr Lochhead insisted there was enough demand for chicken in Scotland to keep producers in business and said retailers were committed to stocking Scottish chicken.
He said: "The farmers I have met today are key to meeting that demand and we have agreed to work together to ensure these businesses have a future."
He added: "Importantly, we have agreed to fund the setting up of a poultry producers' group which will look at other opportunities for them to supply chicken to the market.
"In the longer term, we're setting up a working group - involving the Scottish government, Scottish Enterprise, NFUS and the poultry producers - to examine the future of the poultry industry in Scotland."
Last week, the 2 Sisters Food Group said its Coupar Angus site, which employs 658 people, was making substantial losses.
The company has begun a 45-day consultation and expects to cut the workforce in the new year.
The group, which has 49 manufacturing sites, blamed falling consumer demand and an oversupply of chicken in the market.
A statement said it had also found a buyer for its smaller chicken processing plant at Letham, near Forfar, in Angus.