Brave friends honoured for saving woman's life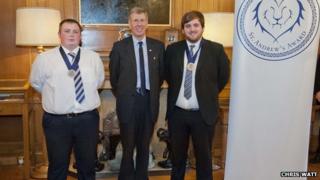 Two friends who stopped a woman falling to her death from a bridge have been honoured for their bravery as part of the annual St Andrew's Day Awards.
Ross Geddes, 21, and 24-year-old Liam Stewart were driving to work when they saw a woman climb over railings on Queen's Bridge in Perth.
Mr Geddes jumped from the car and grabbed her just as she fell, while Mr Stewart called the emergency services.
The pair were honoured by Justice Secretary Kenny MacAskill in Edinburgh.
Also being presented with awards were two paramedics from Glasgow, a police officer from Cellardyke in Fife and a lifeboat volunteer from Anstruther who all played crucial roles in saving the lives of others.
'Extraordinary courage'
Sergeant Roy Giles was nominated for an award by police after he swam into the sea at Anstruther Harbour to save a man who had disappeared below the water.
The man was treated for hypothermia, but survived.
Paramedics Elaine Giles and Ronald McLaren from Glasgow saved two brothers from a burning car as they returned from another job.
The paramedics managed to free the men from the car moments before it burst into flames and after treating the brothers' injuries they also put out the fire and diverted traffic away from the scene before returning to their regular shift.
Lifeboat volunteer Barry Gourlay was also given a bravery award for leading a rescue team that brought two people to safety when the boat they were in started to break up after hitting rocks off the Fife coast.
The pair were left clinging to the cabin roof and Mr Gourlay managed to manoeuvre the lifeboat close enough to allow them to be pulled on board through crashing waves.
The six were selected by a panel of senior officers from Police Scotland, the Scottish Fire and Rescue Service and Scottish Ambulance Service.
Justice Secretary Kenny MacAskill presented the awards at Edinburgh's Surgeons' Hall.
He said: "I am delighted to have been given this opportunity to meet such a brave group of people.
"We must never forget how privileged we are to have such dedicated emergency professionals and members of the public, willing to assist even when their own lives are in danger.
"It is fitting that those who show such extraordinary courage and commitment to public safety should be honoured in this way."