Loch Lomond goat cull: Sanctuary offers to re-house animals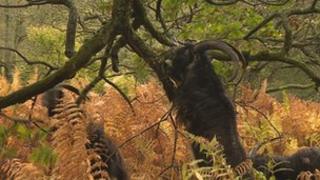 An animal sanctuary has offered to re-home feral goats from the eastern shore of Loch Lomond to prevent them being culled.
Hillside Animal Sanctuary urged RSPB Scotland to halt the cull, which is being carried out to protect Pollochro Woods.
The area is viewed as a site of special scientific importance.
RSPB Scotland said it would consider alternatives solutions in March, but that the cull will continue until then.
Along with advisors at Scottish Natural Heritage (SNH), the RSPB wants to reduce goat numbers in the area from about 69 to 30.
So far, five out of the planned 20 animals targeted during 2013 have been killed.
But Wendy Valentine of Hillside Animal Sanctuary said it had offered to give the goats a home for the rest of their lives rather than have them shot.
Ms Valentine, whose sanctuary in Norfolk is home to more than 2,000 rescued animals, added: "It is a shame that an organisation that is set up to look after the welfare of animals should take a stance that goats should be culled.
"We have rounded up herds of Highland cattle that have gone wild and Highland ponies, so goats would not be any different. We have 70-80 of them already."
RSPB Scotland public affairs manager Katherine Jones said that re-homing the animals had been investigated.
She said the cull had been a "last resort" and not a decision that had been taken lightly.
Ms Jones said: "We have never been opposed to relocation - we just don't have the capacity to do it.
"We weren't able to get a proposal from the British Feral Goat Research Group to put to the decision-making bodies within RSPB as a viable option.
"Were we to receive any viable plans from an organisation that does possess this expertise, we would be able to consider it in the option's appraisal, provided it met appropriate welfare, health and safety, resource, legal and other requirements."
Not native
Ms Jones said the cull in Pollochro Woods was being mirrored in neighbouring land owned by Forestry Commission Scotland (FCS) and at a private estate.
She added that the goats were not native to the local environment and that the cull was part of a "herbivore management plan" approved by SNH and FCS.
She said that RSPB Scotland had been advised to act because the goats were preventing re-growth of an oak woodland with a diversity comparable to the rainforests of south-east Asia, which could be lost within 50 years.
The second year of the cull started in October and will last until the end of December.
Hillside's offer to re-home the goats follows an approach from the Scotland For Animals charity, which has also enlisted the help of Humane Wildlife Solutions, a Borders-based company specialising in pest control without killing.
John Patrick, from Scotland For Animals said: "We have presented a do-able option that is not going to cost them (RSPB Scotland) any money.
"I would have thought they would have jumped at the offer if they really are pro-conversation, pro-nature and pro-wildlife."