Andy Murray to receive freedom of Stirling in April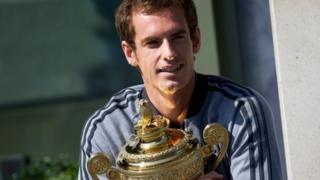 Wimbledon champion Andy Murray will be given the freedom of the city of Stirling in April next year, his mother Judy has revealed.
Murray was granted the honour by Stirling officials following his US Grand Slam and Olympic wins last year.
But he has yet to officially receive it.
Murray trained as a youngster at the Gannochy National Tennis Centre in Stirling, near his home town of Dunblane.
Judy Murray said plans were in place for April, after her son had completed his rehabilitation for a back injury.
Picking up an honorary degree on Friday from Stirling University, where the Gannochy centre is based, Ms Murray said: "He was given the Freedom of the City and, yes, he has to collect that.
"Unfortunately he was laid up for a few months with back surgery then rehab on the injury, which meant he couldn't travel and had to stay close to physios and doctors, and then his rehab ran into the off-season.
"So it's all scheduled for April time now, which will be great."
Ms Murray was based at the centre as Scottish national tennis coach between 1995 and 2004 and taught Andy and his brother Jamie as juniors.
A successful player herself, she won 64 junior and senior Scottish tennis titles.
Now Ms Murray works with Britain's leading women and girl players and is captain of Britain's Fed Cup team, an international women's tennis event.
She is also leading a drive to increase the number of female tennis coaches.
The university said she had been awarded the honorary doctorate to recognise her "outstanding" contribution to tennis, sport and charitable causes.
As well as her coaching work, Ms Murray plans to create a new tennis centre near Stirling.