First vehicle clamped in Dundee after driver failed to pay fine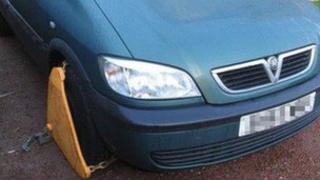 A Dundee driver has become the first person in the city to have a vehicle clamped after he failed to pay a fine.
The man, who cannot be named for data protection reasons, found his car clamped on Monday morning after he failed to respond to warnings.
As a result, he had to pay both the fine and clamping costs for his vehicle.
The move is part of an ongoing strategy to catch people in the area who have not paid fines.
Cliff Binning, chief operations officer for the Scottish Court Service, said: "If you have an outstanding fine in the Dundee area, we urge you to catch up with your payments now.
"If you don't, you could be the next person to see your car clamped or your employer approached to deduct money directly from your wages.
"If your car is seized you then have to pay the additional cost to get it back, it just isn't worth it."