Stirling Council and unions pay dispute set to end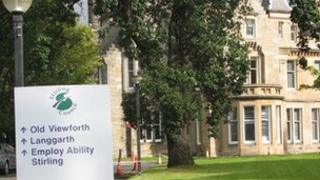 A long-running industrial dispute at Stirling Council looks set to end.
A deal reached between the council and unions means many staff will have a longer working week and see their pay cut.
The local authority is trying to save £29m over the next five years and argues the changes to pay and conditions will help protect jobs and services.
The deal is still to be agreed by union members.
Council services have been disrupted by a work-to-rule for several weeks and there was a one day strike in August.
The agreement was reached after a series of meetings between the council and the GMB, UCATT, UNISON and Unite unions.
It means an end to industrial action and disruption to council services.
'Fresh start'
Council leader Johanna Boyd said: "There has been a tremendous amount of work going on behind the scenes to secure this agreement, which is very welcome news for our employees and for the public.
"It also marks a fresh start between the council and the trades unions. We're keen to work in partnership to protect services and jobs, and to create a positive future for our employees and for the people of Stirling."
Councillor Boyd added: "Stirling Council must save £29m over the next five years, in order to accommodate Scottish government funding reductions. A total of £2.5m per year must be saved through reduced staffing costs.
"The new terms and conditions will help us to deliver those savings while protecting services and jobs."
From tomorrow, council staff will typically work for 37 hours a week instead of 35 and many will see a reduction in their pay.
The basic salary they had been earning will be cut by an average of 1.5%.
But this will partly be balanced out by this year's 1% national pay rise - which will be backdated to April.
The lowest paid staff will also be guaranteed a living wage of £7.50 an hour.
However, it still means an overall reduction in the council's wage bill.
The basic working week will be cut back to 35 hours in 2016.
The chair of the joint trade union committee Abigail Robertson said: "Following a series of meetings between Stirling Council management and GMB, UCATT, UNISON and Unite the Union, a revised set of proposals has been arrived at that allows for the continued suspension of industrial action whilst the unions consult their members on the new proposals."