Man attacked partner with lightsaber at Perth home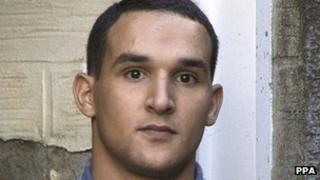 A man who admitted attacking his partner with a lightsaber and threatened to behead firearms officers during an armed siege has been jailed for two years.
A court heard James Williamson, 25, repeatedly smashed his son's Star Wars weapon into Natalie Brennan's legs.
He then stormed out of their Perth home, only to break back in later.
He also held police at bay for two hours as he threatened to stab and shoot them with an arsenal of weapons.
At Perth Sheriff Court, fiscal depute Carol Whyte said the couple had been together for eight years and had a four-year-old son.
She said that on 26 July, Williamson and Ms Brennan fell out and did not speak to each other all day. At 23:30 that night Williamson came into the house, threw a leather belt at Ms Brennan and shouted abuse at her.
"He picked up a lightsaber and repeatedly struck her on the legs," Ms Whyte said. "She asked him to stop and pulled the duvet cover over her legs to try and protect herself.
"He grabbed her hair. He bit her neck and her arm. She had red marks on her legs and bite marks on her legs."
Ms Whyte said Ms Brennan gave Williamson £30 after he began rummaging in her bag.
Williamson then fled but returned an hour later and found the door locked. When Ms Brennan refused to let him in he smashed the kitchen window and climbed through, cutting his arms and hands, the fiscal said.
When Ms Brennan dialled 999, Williamson grabbed the phone, terminated the call and shouted at her to clean up the glass.
When police turned up, Ms Brennan ran into the street and Williamson refused to open the door to officers.
Ms Whyte said he smashed items in the kitchen and appeared aggressive and agitated. He was also covered in blood.
"Due to concerns for children in the house firearms officers were deployed," she said. "The accused produced a large kitchen knife."
Drunken rage
She told the court Williamson said he would use the knife, a samurai sword and a shotgun to kill seven police officers. He eventually gave himself up at 03.05.
Williamson admitted using the lightsaber and a belt to attack and injure Ms Brennan at their home on 26 July.
He admitted biting her and breaking a window and climbing into her home after being refused entry. He also pleaded guilty to having a knife and threatening to kill the police.
Paul Ralph, defending, said Williamson had gone out drinking with a family member after falling out with his partner and had come back in a drunken rage.
His client was getting help for drug and alcohol problems and accepted he was fortunate that he had not caused more serious injuries to his victim, the lawyer said.
Mr Ralph said Williamson accepted it was lucky that the police arrived as quickly as they did and that Ms Brennan managed to flee to safety from the house.