Former council boss Tom Leighton embezzled £27,152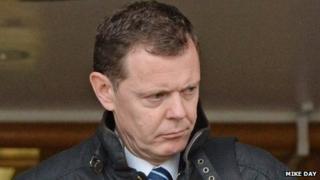 A former Falkirk council boss has admitted embezzling £27,152 of taxpayers money.
Tom Leighton, 48, was previously the council's head of Leisure Services and could authorise payments to third parties as part of his position.
Leighton, of Selkirk, pleaded guilty on indictment to embezzling the money between October 2006 and May 2009.
His sentence was deferred at Falkirk Sheriff Court until December 5 for background reports.
Kirsten Cockburn, prosecuting, said Leighton had held various council positions across Scotland before joining Falkirk Council in 2004.
She said his line manager Maureen Campbell became suspicious of a payment made to a "Mrs Gardiner" in Galashiels.
The depute fiscal said the council worker knew that Leighton lived in the Borders and wondered why he would need to pay anyone there.
Ms Campbell decided to contact Mrs Gardiner - who turned out to be Leighton's mother-in-law and an internal audit was then carried out.
Other payments
The court heard how various other payments came to light under the investigation.
The fiscal said Leighton's wife Nicola told police she was "unaware of any criminality involving her husband".
Leighton had initially been accused of embezzling £75,578, but the figure was reduced by the prosecution.
He also admitted attempting to embezzle £16,000 between July 2007 and May 2009.
Ms Cockburn said that Leighton, who resigned from the council, "openly admitted being involved in these transactions".
She said he claimed he was suffering from depression at the time.
Ian Burke, defending, told the court that Leighton, a first offender, had paid back £13,000 to the council and was expected to pay the balance.
Sheriff William Gallacher told Leighton: "You abused a position of trust. Local authorities have limited resources, and those who take them for themselves face widespread opprobrium."