Scottish oak in Perthshire to enter European contest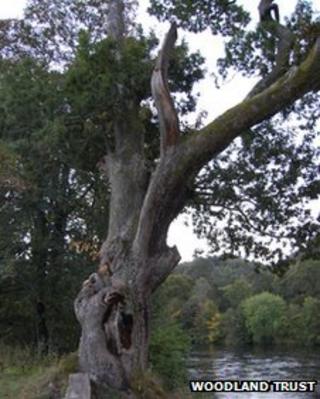 An ancient oak in Perthshire is to be entered into the 2014 European Tree of the Year contest.
Niel Gow's Oak sits on the bank of the River Tay - just outside Dunkeld in Perthshire.
Many of Scotland's most famous fiddle tunes were composed under the tree, including those of Niel Gow - one of Scotland's famous 18th Century fiddlers.
It is the first Scottish tree to be entered into the European contest.
It will be up against entries from countries including Wales, the Czech Republic, France and Bulgaria.
The competition aims to find Europe's best loved tree and one with a story that can bring a community together.
Mr Gow is best known for his tunes "Niel Gow's Lament to his Second Wife" and "Farewell to Whisky".
He lived in Inver, near Dunkeld, for most of his life and according to local legend many of his best known compositions were written underneath the oak.
A bench sits under the tree inscribed with a lyric from the late Michael Marra's song "Niel Gow's Apprentice", paying tribute to the legacy that Mr Gow left to Scottish music.
Rory Syme from the Woodland Trust Scotland said: "Niel Gow's Oak is a perfect example of a tree that has great story to tell and a real connection with people.
"The tunes that were written under the tree have been exported all over the world and we're sure that the folk music community will get behind the entry in a big way."
Members of the public will be able to vote for the oak throughout February 2014 in the finals of the competition.