Perth High School pine tree memorial pine felled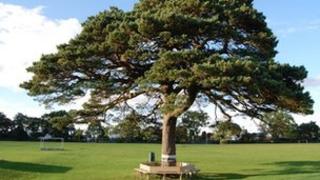 An ancient pine tree which had become a memorial to two brothers who died in a road crash has been felled to make way for an artificial sports pitch.
The tree, thought to be at least 150 years old, was located in the grounds of Perth Academy.
An application for a preservation order, protecting it from being chopped down had previously been refused by Perth and Kinross Council.
An all-weather sports pitch is to be built on the land where the tree stood.
The Woodland Trust had previously said the tree was the "equivalent to a listed building".
The pine tree was present on the very first Ordnance Survey map, created in 1866.
It had also been made into a tribute to former Perth Academy pupil Callum Owen and his brother Ethan who were killed along with their mother in a crash on the A95 near Aviemore in December 2009.
The tree was removed on Sunday and the bench underneath the tree is to moved into a safe location.
Andrew Fairbairn from the Woodland Trust Scotland said: "This ancient Scots pine and the bench around it stood as a memorial to which stand as a memorial to two children who were killed in a tragic accident, which makes its destruction even harder to accept.
"It's still unclear why the alternative plan was rejected and until the council offers more information, it's hard to believe that there was any possibility of convincing them to do the right thing."