Man jailed for raping teenage girl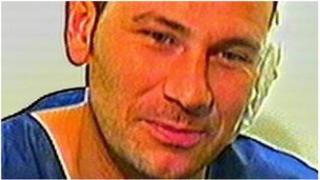 A man who raped a teenage girl and attacked three others has been jailed for seven years.
Christopher Nelson, 31, told one of his victims - who were all aged between 16 and 18 - that he enjoyed strangling people, the High Court in Edinburgh heard.
The attacks all happened at addresses in Dundee.
Judge Lady Scott made an order keeping Nelson on licence for an extra four years after the end of his sentence.
A jury found him guilty in June of raping a 16-year-old girl in a flat in Dundee's Hilltown area last November, after plying her with vodka.
He had contacted the girl through Facebook, the trial heard.
Background report
During the struggle Nelson pushed the girl against a wall and seized her by the neck, restricting her breathing.
Another girl told how a meeting at a Travel Lodge in Dundee's Riverside Drive turned violent when Nelson discovered another man had sent her a text message.
She fled naked from the hotel room after Nelson tore her clothes off. When she returned to the room Nelson, who had been hiding in a bath, jumped out and attacked her again, putting his hands round her neck.
At the end of the trial, Lady Scott had ordered an in-depth background report.
When the case called for sentencing on Wednesday, defence QC Mark Stewart said the report showed Nelson had an understanding of his difficulties and would take part in courses both in prison and afterwards.
But Lady Scott said the risk assessment report identified possible risks of serious harm because of his habit of trying to strangle his victims.
"It is also alcohol and substance misuse which is the precipitating factor," she said.
'Sexual violence'
Lady Scott said the report concluded that Nelson was able "to take steps to address that and also prepared to take steps to address the issue of sexual violence."
She told Nelson: "You get aggressive or angry when drinking."
Although none of the girls was seriously injured, said the judge, he had carried out "a sustained and serious course of conduct involving threats and sexual violence.
Lady Scott noted that the 16-year-old told how Nelson raped her and "at the time you had a smirk on your face."
Nelson was convicted of a total of eight charges and cleared of one further charge of rape. Among the charges he was convicted of was one of threatening behaviour "likely to cause a reasonable person to suffer fear or alarm" by suggesting that he enjoyed strangling people.
He was sentenced to five years for the rape and a further two years for the other attacks and threats.