Unite official Stephen Deans resigns from Grangemouth job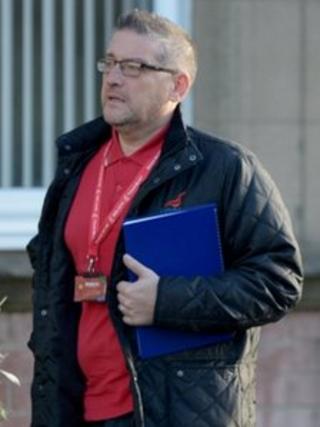 The Unite union official at the centre of the Grangemouth industrial dispute has resigned from his job at the facility.
Stephen Deans claimed he had been treated as the "enemy within" by site operator Ineos.
He told union members at the complex he did not want his situation to be a distraction.
Mr Deans had been suspended by Ineos over claims he used company time for political campaigning work.
Ineos had been expected to reveal the outcome of a disciplinary case against him on Tuesday.
Unite had previously voted for strike action over his treatment, which led to last week's shutdown of the oil refinery and petrochemical plant.
Mr Deans declined to comment when contacted by BBC Scotland.
But Unite said that, in his letter of resignation to Ineos, he expressed the view that, in spite of his long and loyal service, management now treated him as the "enemy within".
In a statement, Unite said: "The final straw was the decision of Ineos to leak details of private emails to the Sunday Times in an effort to further smear his reputation.
"As he told his colleagues today "the hurt to my family is unforgiveable and I will not allow management to take away my dignity and self-respect any further.""
The union said Mr Deans had told the Unite membership at the plant: "Ineos Grangemouth is now entering a new period, and my own situation would only prove to be a distraction, and would cast a shadow over what we all must hope will be a prosperous long-term future for the plant."
Mr Deans had "worked tirelessly with management to help secure the future of the Grangemouth plant, and maintain positive working relationships, on numerous occasions," it added.
The statement said: "Without diminishing its commitment to the company's survival plan or to the agreement made last week with Ineos, Unite will, in the light of the company's behaviour at the weekend, consider what steps can be taken on Mr Deans' behalf."
A statement released by Ineos earlier on Monday confirmed Mr Deans had resigned from the company with immediate effect.
It said: "The company has conducted a thorough investigation into Mr Deans' activities over the last 18 months and made Mr Deans aware of these findings last week.
"Mr Deans requested an additional five days prior to the final disciplinary hearing to allow him time to provide any further relevant information.
"The company was due to meet with Mr Deans again tomorrow but has now received his resignation."
'Rigging' claims
Mr Deans, the convener of Unite in Scotland, had worked at Grangemouth for about 25 years.
He had been accused of trying to rig the selection of a candidate for Westminster in his role as chairman of the Labour Party in the Falkirk constituency.
It was claimed he signed up dozens of new members for Labour, promising the recruits that Unite would pay their membership fees on the understanding that they would back the union's choice in the contest to select a new candidate to stand for parliament in Falkirk, to replace the disgraced Eric Joyce.
Mr Deans was suspended from the Labour Party but was later cleared by an investigation and reinstated.
But Ineos carried out its own investigation into allegations that some of the new Labour members had been signed up in the refinery.
The row over his treatment erupted into a vote for strike action which was eventually called off by the union.
The threat of industrial action led to Ineos temporarily shutting down the facility last week - before later announcing the site's petrochemical plant would shut permanently with the loss of 800 jobs.
The company eventually reversed that decision after staff agreed to implement changes to pay, pensions and conditions which Ineos said were necessary to ensure the survival of the petrochemical plant and the neighbouring oil refinery.
Labour MP Michael Connarty, whose Linlithgow and East Falkirk constituency includes Grangemouth, said he believed Mr Deans had been the ''subject of victimisation''.
Mr Connarty, who is currently at a conference in Lithuania, said he would be making no further comment until he had spoken to Mr Deans.
A Labour Party spokesperson said: "This is a matter between Stevie Deans and Ineos."
There have been calls for Labour to reopen its investigation into the vote-rigging allegations after the Sunday Times claimed to have seen emails showing Unite had undermined its original inquiry.
The newspaper reports claimed a fresh complaint had been made to police on Friday about the Falkirk Labour Party's handling of its candidate selection.
In a statement, Police Scotland said: "Documents were handed into Falkirk Police Station and will be passed to our electronic crime unit for examination."