Dundee man fined for stun gun possession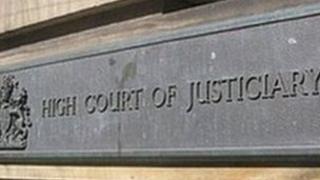 A man who was caught by police with a stun gun disguised as a mobile phone outside a party at a friend's house as been fined £1,500.
Callum Flood, 24, from Dundee, bought the gun to play practical jokes on friends.
At a previous hearing he had pled guilty to illegally possessing the firearm in May 2011.
At the High Court in Edinburgh, judge Lord Brodie made the decision not to impose a custodial sentence.
Under the Firearms Act, the offence carries a minimum of a five year prison sentence, as laid down by Parliament - unless exceptional circumstances are established.
Lord Brodie decided to spare him prison because he was convinced that there were exceptional circumstances in the case.
Background
The court heard how Flood had been detained by police after they were called to a house in Dundee following an altercation.
Flood was restrained and handcuffed and an officer asked him if he had anything which could cause harm, to which he replied: "No".
He was searched and an item that appeared to be a mobile phone was found in a pocket of his jeans, but an onlooker called out that it was a taser.
At an earlier hearing, Lord Brodie said: "The policy here is that people are to be deterred from possessing firearms or any weapon which can be regarded as a firearm.
"In the current case I have come to the conclusion that exceptional circumstances do exist.
"In particular I have had regard to the fact that this was a non lethal weapon. It is a harmful weapon but the harm it can achieve is limited.
"Your intention which I accept, was to use it as a means of carrying out practical jokes and indeed you had tested it already on yourself."
'Misunderstanding'
Lord Brodie said he also accepted that Flood did not understand that possessing the weapon was unlawful.
He added: "On the evidence before me it would appear the period you possessed it was short."
He said he took into account that there was no device for recharging the electric shock weapon and that Flood said he did not intend to use it for criminal purposes."
The judge said he would defer sentence on Flood for a year.
Flood, who had been drinking, had been at a party at a friend's house before heading to his girlfriend's home had said:
"I thought it was a toy. I just bought it from a friend as I was leaving the party. I thought it would be a good practical joke."
His defence solicitor advocate Iain Paterson urged Lord Brodie not to jail his client.
Lord Brodie agreed and ordered the fine to be paid within the year.