Andrew Montgomery from Dundee admits biting off part of cousin's ear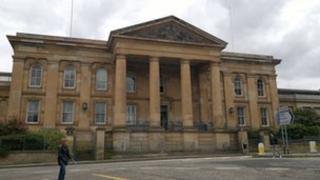 A man has admitted biting off part of his cousin's ear in a row over a grave plot.
Andrew Montgomery, 34, from Dundee, carried out the assault before chasing Dean Montgomery, who was clutching his severed lobe, down the street.
The assault left the victim needing extensive reconstructive surgery to create a new ear as the detached part could not be saved.
Sheriff Kenneth McGowan deferred sentence until Friday.
The court heard how the assault came after a family dispute over a grave plot - with various exchanges between family members over two weeks before the attack.
Andrew Montgomery then approached his cousin on Dundee's Dens Road, on 30 July last year, and a fight broke out.
Both men fell to the ground, with Dean Montgomery becoming aware that his accused was biting his ear.
Fiscal depute Trina Sinclair said: "The accused had a grip of his ear in his teeth and the complainer was afraid to pull away, in case his ear became detached.
"He was then aware of part of his ear falling to the ground.
"He picked it up at this time and had it in his hand."
Dean Montgomery then managed to get to his feet and ran back down Dens Road - towards Alexander Street.
Miss Sinclair added: "The accused caught up with the complainer and knocked him to the ground and repeatedly punched him on the head and body."
Members of the public who witnessed the attack then called police - with Andrew Montgomery making off in an orange Vauxhall Corsa.
'Repeatedly punched'
His cousin was taken to Dundee's Ninewells Hospital where he needed 24 stitches to his ear.
The amputated part of the lobe was not deemed fit for re-attachment.
Dean Montgomery then had to go through lengthy and painful reconstructive surgery to give him a new ear.
The court was told that two rib cartilages were harvested from his chest and carved into the shape of the missing part of his ear.
They were then covered with a skin flap taken from behind his other ear.
Miss Sinclair submitted a victim impact statement to the court detailing the effect of the attack on Dean Montgomery.
Andrew Montgomery pleaded guilty on indictment to a charge of assaulting his cousin, to his severe injury and permanent disfigurement.
Jack Brown, defending, said there had been a long-standing family dispute and that Dean Montgomery "was not the shrinking violet in the impact statement".
Sheriff Kenneth McGowan deferred sentence until Friday for a full plea in mitigation to be heard from Andrew Montgomery's lawyer.