Daniele Muir chosen as Scotland's first dragonfly officer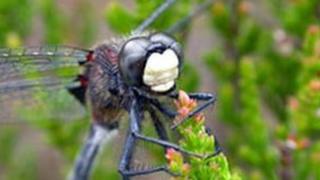 The first Scotland Officer for the British Dragonfly Society (BDS) has been appointed.
Daniele Muir will work in the post part-time, combining it with her current position as a countryside ranger for Perth and Kinross Council.
Ms Muir studied environmental science at the University of Aberdeen and has 15 years experience as a countryside ranger.
She will be responsible for BDS activities throughout Scotland.
Ms Muir lives in Dunkeld. Her previous work has included a swift conservation project in the Carse of Gowrie.
The British Dragonfly Society was founded in 1983 and is celebrating its 30th year.
It promotes and encourages the study, conservation and understanding of dragonflies and their natural habitats, especially in the UK.
The society also works to raise public awareness of dragonflies.
According to the BDS, in the past 60 years Britain has lost two species of dragonfly and almost a third of the remainder are now in decline or considered threatened in the UK.
Ms Muir said: "I first became interested in dragonflies when working in Crombie Country Park and I am looking forward to working more closely with both dragonflies and volunteers."