Prison term imposed on Dundee child abuser Paul Angus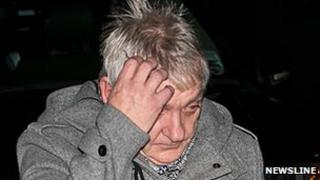 A man who committed sexual offences on children for 22 years has been sent to prison.
Paul Angus, 57, was found guilty of 15 charges including three rapes, attempted rape, sexual assault and indecency.
The judge ordered that he serve at least five and a half years in prison before he can ask for parole.
He will remain under supervision and on the sex offenders register for the remainder of his life.
During an earlier three-week trial Angus claimed he was innocent and that his accusers were conspiring against him.
Eight girls ranging from eight to 16 were attacked at various locations in and around Dundee.
They were assaulted between December 1988 and May 2010. None of the victims can be named for their protection.
The court had heard how three of the girls were plied with drink before Angus made them perform sex acts.
He was also found guilty of attempting to pervert the course of justice by contacting one of his rape victims on 14 April last year by text message and attempting to persuade her not to contact police.
Lord Burns said: "You used emotional blackmail which is truly despicable."
After the trial last December, Lord Burns ordered in-depth reports to pave the way for a life sentence.
An earlier hearing had to be cancelled at the last minute because Angus was taken to hospital complaining of chest pains.
The judge noted that Angus had "groomed" the eight girls and appeared to have no appreciation of the effects his abuse had on them.
He said: "You took advantage of them for your own depraved purposes."
Lord Burns warned Angus that he would only be released when it is considered he no longer poses a risk.