Line works planned by Network Rail near Alloa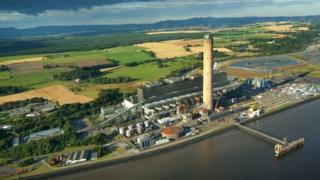 Network Rail has confirmed that it is to carry out a programme of works to renew and strengthen parts of the Stirling - Alloa - Kincardine line.
The company said the route has been heavily used by coal trains supplying the Longannet power station.
In July, it was announced that the power station may continue to operate until 2025.
Network Rail said the planned work on the line would also improve its ability to withstand severe weather.
A Network Rail spokesman said: "The S-A-K line is a key route for coal trains travelling to Longannet and it has seen increasing levels of usage since it opened in 2008. That usage is also set to continue for longer with the extension of the lifetime of the power station.
"We intend to carry out a rolling programme of works to renew some sections of the line that require formation treatment to support the ongoing tonnages of coal traffic. We will also be carrying out drainage works to future-proof the route against the wetter and more severe winters we have been experiencing.
"We are currently working with the train and freight operators, and other stakeholders, to plan these works and the full scope, timings and costs of the project have still to be finalised."