Union rejects latest Stirling Council offer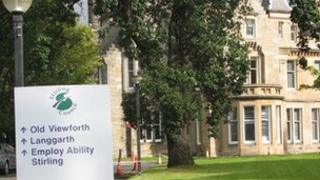 A proposal by Stirling Council aimed at ending a dispute over pay and conditions has been rejected by unions.
The dispute has centred on the council's plan for a 0.5% pay cut across all pay grades and an additional hour of work per week.
The new offer included a guarantee to restore the pay cut, and implement a national 1% pay rise, at a future date.
Unions said the plans did not address the key issues of working more hours and changes to terms and conditions.
The council's revised offer included:
no compulsory redundancies
no further changes to local employment terms
restoration of current pay cut (1.5%) from April 2015 provided efficiency savings were met.
Stewards from JTUC, Unison, Unite, GMB & UCATT unions unanimously rejected the proposals after a meeting on Monday.
They said the proposals also introduced performance-related pay and terms.
Council savings
The council expressed disappointment and said more than 90% of the council's 3,000 employees had signed up to the new terms and conditions.
However, unions have said their members were only signing up "under protest" in order to keep their jobs.
Unison has described the 0.5% cut as equivalent to a 1.5% pay cut after council staff across Scotland narrowly accepted a below-inflation 1% pay rise.
It has also claimed the proposed extra 7.5 days of work a year meant it actually amounted to a 4.5% pay cut for most staff.
The council has said the changes are necessary as it needs to make savings of £24m due to a real terms cut in the funding it receives from the Scottish government.
It said the proposals amounted to an average pay reduction of £10 a month for middle and higher paid employees.
The lowest grades will have a pay increase to £7.50 an hour as part of the council's ongoing commitment to the Living Wage, it said.
Bob Jack, Stirling Council chief executive, said: "We are very disappointed that union officials have rejected these very positive proposals without asking their members for their views.
"The votes taken on industrial action are now some months old, they attracted only a few hundred votes, and were based on a very different set of conditions."
Unison said it had been unable to share the proposals with its members as it was locked into a confidentiality agreement. The council said this agreement had been requested by the union.
Unison said it would step up its campaign to pursue further "fair, meaningful negotiations".