Christopher Taylor jailed over police stand-off in Perth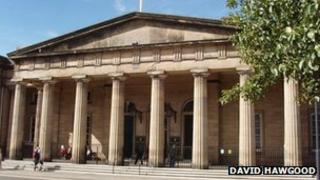 A 22-year-old man who threw knives and bottles at police during a stand-off in Perth has been jailed.
Christopher Taylor, from Cumbernauld, threw two kitchen knives from the window of a first-floor flat in Balgowan Road on 15 September.
Perth Sheriff Court heard that 15 officers, including a specialist siege team, were deployed and the street cordoned off.
Sheriff Lindsay Foulis ordered that Taylor serve nine months for the crime.
Taylor's solicitor Paul Ralph told the court that the siege and his client's violent behaviour had been sparked by his heavy use of cannabis.
Mr Ralph said: "He had been smoking quite heavily prior to this offence. He had gone to stay in Cumbernauld, but had come back to Perth as he had been promised work here.
"That wasn't immediately coming to fruition and he had time on his hands and he was increasingly smoking more and more. Today, he doesn't know why he behaved in the manner he did."
The court was told that the father-of-one had become increasingly erratic in the months leading up to the offence.
His partner had fled the flat and reported Taylor to police.
Fiscal depute Rebecca Kynaston said Taylor had initially ignored the officers who turned up before turning violent and forcing them to retreat back into the street.
'Evasive action'
She said: "Officers withdrew due to the serious nature of the threats. The accused was seen to appear at a window and threatened to kill the officers.
"He began to throw household items from the window at the officers, who were forced to take cover. He brandished two large kitchen knives, one in each hand.
"Specialist support was requested from Dundee and a negotiator was called. A cordon was put in place to protect the public and police officers."
Ms Knayston said Taylor was seen lining up a number of glass bottles on the window sill before throwing them at police vehicles parked outside.
One of the bottles hit a windscreen and caused it to smash.
She added: "He was acting in a volatile and erratic manner. He was heard ranting at himself and the officers.
"Two knives were thrown from the window in the direction of officers who took evasive action."
Taylor eventually hurled two bags of items out the window before walking out the front door with his hands in the air to give himself up.