Dundee University attracts record £140m research funding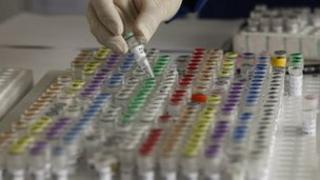 Researchers at the University of Dundee have seen their funding reach record levels in the past year.
Awards totalling £140m were given to the university, up from the previous record of £114m the year before.
The rise was helped by significant support from the Research Council as well as grants from both the EU and Scottish government.
The university is central to a biosciences hub in Tayside, accounting for about 16% of the local economy.
Among the largest awards was a £24m grant for Life Sciences from the Medical Research Council to support the MRC Protein Phosphorylation and Ubiquitylation Unit.
'Transform lives'
Another example was the launch of the Innovative Medicines Initiative (IMI) European Lead Factory, which will boost investment by £16.5m in Scotland, with the university as a central partner.
Prof John Connell, vice-principal for research at Dundee, said: "These record figures we have set in each of the past two years are testament to our research strength and reflect the hard work our researchers have put in to win funding across the university.
"The level of research income demonstrates the vital role the university plays in helping foster the nation's economy and will lead to greater understanding across the disciplines from science to culture.
"We have an overarching mission to transform lives, locally and globally, and the pioneering research we carry out, and how it is applied, is a major factor in helping us achieve that goal."