Perthshire teenager Reece Scobie locked up for 'jetset' fraud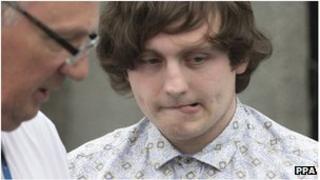 A teenager who carried out a £70,000 fraud to fund a globetrotting lifestyle has been locked up.
Reece Scobie, 19, from Rait in Perthshire, was compared to Leonardo DiCaprio's conman character in the film Catch Me If You Can for his antics.
The former travel agent conned travel firms out of the cash to book flights around the world and rooms in hotels used by A-list stars.
Scobie was detained for 16 months at Perth Sheriff Court.
The court was told Scobie's con started within weeks of him being taken on as a trainee travel agent by Thomson Travel in the St John's Shopping Centre in Perth.
He was able to access accounts and passwords allowing him to book flights and accommodation.
Among the trips he took were business class flights to Singapore and Los Angeles.
He also booked round the world trips, taking in locations like Dubai, Auckland, Atlanta, New York and Vancouver.
He was eventually caught while on a trip to Los Angeles.
In the 2002 Stephen Spielberg film Catch Me If You Can, real life conman Frank Abagnale Jnr posed as an airline pilot to travel the world.
Scobie's solicitor Jim Laverty told Perth Sheriff Court: "While the life of Mr Abagnale was shown by Leo DiCaprio in Catch Me If You Can, I don't think the gauntlet thrown down by him was the same gauntlet thrown down by Mr Scobie, who was fairly easily traceable.
"He may not be at genius level in relation to certain information technologies, but he may not be a kick in the backside off it.
"He has been at that high level since his early school years, aged five or six.
"People may jot down their dream journeys on a blank piece of paper, but unfortunately, Mr Scobie had the wherewithal to book those in real time in the real world."
'Treating himself'
Mr Laverty told the court that his client suffered from Asperger's Syndrome and Obsessive Compulsive Disorder and made a number of bookings he could never use.
But the court heard that Scobie booked as many as 30 hotel rooms and stayed in a large number of them, often treating himself to wine and food.
Among the hotels he booked to stay in were the Jumeirah Essex in New York, where Angelina Jolie is rumoured to own a penthouse, and the Shangri-La in Vancouver where Keanu Reeves has stayed.
Despite being sacked by Thomson after a couple of months, Scobie managed to con another company out of almost £60,000 in the space of 11 days.
He booked at least five luxury holidays across the world each costing between £5,000 and £10,000.
Guarantee letters
Scobie admitted two charges of fraud by obtaining services, flights and accommodation while employed at Thomson Travel in Perth.
He also admitted that between July 2011 and January 2012 he booked an unspecified number of flights and hotel rooms on the company's account using passwords.
In addition, he admitted accessing the accounts of Cambridge Business Travel and booking numerous flights in January last year.
On 18 April this year, Scobie also used fake guarantee letters and travel documents and got Perth Sheriff Court staff to hand over his passport.
Perth Sheriff Court was told that Thomson Travel had been conned out of £11,256, while Cambridge Travel were duped out of £59,878.
Sheriff Lindsay Foulis said: "I don't consider this an easy case to sentence because I am fully aware of the condition from which you suffer.
"However, I do consider it appropriate to deprive you of your liberty for a period."