Grangemouth staff at Ineos announce industrial action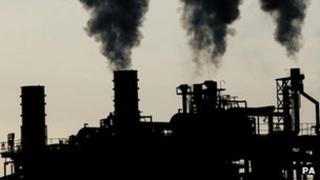 Workers at the Ineos complex in Grangemouth are to ban overtime and take other industrial action in a row over the treatment of a union official.
Unite said the action would start on Monday 7 October.
The ban on overtime and a work-to-rule will disrupt and slow down operations, said Unite.
It comes after Ineos said it had asked the UK and Scottish governments for grants and loan guarantees of £150m to build a new gas terminal at the site.
The company said that without new investment Grangemouth would close by 2017.
The dispute centres on union official and Ineos employee Stephen Deans, who was caught up in the furore surrounding the selection of a Labour candidate to stand for election in the Falkirk constituency.
Mr Deans, who is chairman of the constituency party, faces an investigation by Ineos over issues linked to the Falkirk row.
'Unfair treatment'
The union is due to hold a mass meeting of members at the Grangemouth site at 16:00 to discuss the potential escalation of industrial action.
Unite Scottish regional secretary Pat Rafferty said the union had given Ineos many opportunities to "come to its senses and end the unfair treatment" of Mr Deans.
"We have always been willing to sit down with the company and discuss the challenges facing the business."
He added: "Unite has announced action which will slow down operations from next Monday but the workforce are losing their patience and are ready to escalate the action unless the company ends its treatment of a loyal member of staff with 24 years' service.
"Ineos is trying to spin this dispute into a fight over the future of Grangemouth - this is not the case.
"This dispute is about the unfair treatment of Stephen Deans who has already been cleared by the police and by the Labour party."
Ineos has put forward a survival plan for Grangemouth, saying it was willing to invest £300m to help build a new gas terminal to bring ethane from the United States.
Ineos also wants staff to accept changes to pay and pensions, including the scrapping of the existing final salary pension scheme and the introduction of a money purchase scheme.
The company said it also intended to close a number of plants and reduce its head count.