Angus welcomes golf's World Hickory Open Championship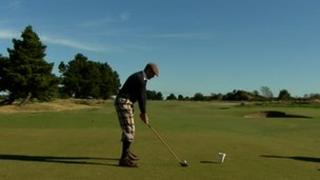 Golfers from across the world have arrived in Angus to take part in the World Hickory Open Championship.
The competition, which is being held at the Montrose Medal, is played with traditional hickory-shafted golf clubs.
This year's event has attracted teams from across the world, including from the USA, South Africa, Australia and from across the UK.
Competitors are limited to clubs made before, or made to replicate those manufactured before, 1935.
The World Hickory Open Championship was first held in 2005 and has become popular across Europe and the United States.
The event's chairman, Lionel Freedman, said: "For spectators and golfers alike, it adds a very special element to the tournament to know that the competitors' golf clubs and outfits are very similar to those of the golfers who played here a century ago - and beyond."
He added: "We have an outstandingly high quality of entrants to this year's World Hickory Open.
"Many of the world's top hickory golfers will be competing, including 14 golf professionals, and we also have our highest ever number of lady entrants."