Grangemouth bosses launch 'survival plan' for Ineos site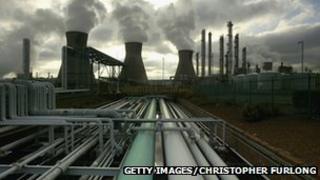 Chemicals giant Ineos has asked the Scottish and UK governments for grants and loan guarantees of £150m to build a new gas terminal.
The firm said its petrochemical site in Grangemouth is "unsustainable" and will close by 2017 without new investment.
It has put forward a "survival plan", saying it was willing to invest £350m to help build a new gas terminal to bring ethane from the United States.
Unite members at the site have voted for strike action.
They are currently in a stand-off with Ineos over the treatment of union official and Ineos employee Stephen Deans.
The company launched an investigation into Mr Deans, who is also chairman of the Falkirk Constituency Labour Party, after he was caught up in the furore surrounding the selection process to find a replacement Labour candidate for MP Eric Joyce.
'Package deal'
However, following Friday's vote for industrial action, Ineos has said it is asking workers to "play their part" in the survival plan for the site at Grangemouth.
Ineos wants staff to accept changes to pay and pensions, including the scrapping of the existing final salary pension scheme and the introduction of a money purchase scheme.
The company said it also intended to close a number of plants and reduce its head count.
Chairman Calum MacLean said: "These changes will transform our Grangemouth business and ensure the long-term future of the site.
"But everyone must understand that this is a package deal and there is no plan B."
Ineos said it had invested £1bn in Grangemouth which, it added, is losing £10m a month.
The company is looking for £9m in grants from the Scottish government, and more than £125m in loan guarantees from the UK government.
There are 700 people currently work at the petro-chemical plant, and while a cut in numbers is part of the plan, a spokesman would not say how big the reduction would be.
Pat Rafferty, Scottish secretary of Unite the union, said it is willing to talk about the challenges facing the Ineos plant, but only after resolving the current dispute over the treatment of its official.
"We're not blind to the challenges, " he added.
"We will sit down and have talks with the employers about the long term security of the site and security of employment for our members.
"But right now, we have to deal with the matter in hand, and that's the industrial action ballot relating to Steve Deans".
A Scottish government spokesman said it is in discussions with Ineos to see what can be offered, recognising the importance of the petro-chemical plant to the Scottish economy.
Staff at the complex took part in a 48-hour strike in April 2008, leading to long queues at petrol forecourts across the country after the closure of the Forties oil pipeline.
Unite said it had held talks with BP, which owns the Forties pipeline, to discuss the latest dispute.