Shona Robison hails 2014 Ryder Cup benefits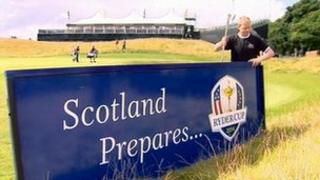 The Ryder Cup will bring about 250,000 people from 75 different countries to Gleneagles next year, according to the sports minister.
Shona Robison told MSPs that the event, to be held from 23-28 September 2014, would boost the economy at both local and national level.
The minister said match day tickets - which cost up to £145 - were already heavily oversubscribed.
The 2014 Ryder Cup is expected to attract 45,000 spectators a day.
Ms Robison said: "One in three tickets sold were purchased by people from Scotland, but we'll have visitors from 75 countries - more than ever before."
Meanwhile, the local area will host 7,000 volunteers and staff during the peak period of the event, the minister said.
'Better balance'
Ms Robison was speaking during a Holyrood debate marking one year to go until the 2014 competition.
Planning has been in hand since Scotland's successful bid in 2001 to host the event.
The minister also highlighted the benefits for young people, with the continuing ClubGolf junior golf initiative and the Volunteering Support Scheme.
But opposition parties said politicians should be mindful of the costs of accessing the sport or becoming a volunteer.
Labour's Patricia Ferguson questioned the cost of the first minister's trip to last year's Ryder Cup at Medinah, near Chicago in the US, which was more than £468,000.
She said: "That is only a little less than ClubGolf costs for one year, and in my view a paring down of the costs for that trip and a little bit more money spent on ClubGolf would have been a better balance."
Ms Ferguson also highlighted the decline in golf club membership in recent years, a point which was echoed by Tory MSP Liz Smith.