Grangemouth plant operator Ineos begins Unite legal action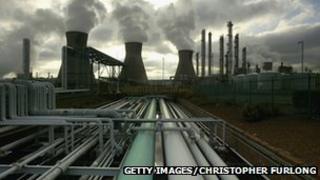 The owners of the Grangemouth petrochemical plant have begun legal action over an article on Unite the Union's website.
In their legal case, raised in the High Court in London, Ineos said Unite had made false allegations about the firm.
The two sides are currently locked in an industrial dispute over the treatment of an Ineos employee.
Staff at the plant have been balloted for strike action over the issue and the use of temporary staff.
The dispute began after Ineos launched an investigation into its employee Stephen Deans.
Mr Deans, who has worked at the Grangemouth site for 24 years, also serves as the chairman of the Falkirk Constituency Labour Party (CLP).
He was briefly suspended by the Labour Party in July following an investigation into claims of vote-rigging in Falkirk in the selection process to find a replacement for out-going Labour MP Eric Joyce.
Mr Deans was subsequently cleared by the party and reinstated as the local party chairman. A police investigation into the issue was also dropped.
Since then, Ineos has begun its own investigation into Mr Deans.
The company said it was investigating whether or not Mr Deans' activities were in line with his role as an employee and a convener.
Ineos said the investigation was due to conclude on 18 October and a decision based on its findings would be published on 25 October.
However, the union has now balloted about 1,000 of its members at the Grangemouth site in response to the company's treatment of Mr Deans.
The result of the ballot is due on Friday 27 September.
In its article posted on 20 September, Unite criticised the company's treatment of Mr Deans.
It added: "It is now a matter of fact that Stevie Deans did nothing wrong within Falkirk CLP as it worked to select a Labour party candidate to replace the disgraced Eric Joyce as MP.
"This was made clear by the Labour party on Friday 6 September and more importantly by Police Scotland in August."
On Tuesday, Ineos said the union should remove the article or face "immediate libel proceedings".
Calum MacLean, Ineos Petrochemicals UK chairman, said: "We know that these are challenging times for everyone at Grangemouth but the publication of an untrue and defamatory comment by Unite is clearly unacceptable and will only mislead people."
'Gunboat diplomacy'
Mr McLean added: "We will not be intimidated by union pressure. We cannot have one rule for union officials and another for everyone else on the site.
"I would urge union members to reflect on what they have been told by the union and think carefully about how they vote on this issue".
Unite's Scottish secretary Pat Rafferty, said: "It is ridiculous to suggest that Unite has libelled Ineos. We have issued an honest statement of opinion.
"It is a matter of fact that a man who has been found innocent of any offence, exonerated by Police Scotland and an internal Labour Party inquiry, yet is still subject to an investigation by his employer.
"It is a matter of fact that Unite's solicitors have written to Ineos outlining the unfair treatment of Stevie Deans."
Mr Rafferty added: "Unite will defend its position vigorously but would again call upon Ineos to do the right thing; no more gunboat diplomacy, sit down with us and resolve this matter peacefully."