Water cut to thousands of homes in Dundee and Perthshire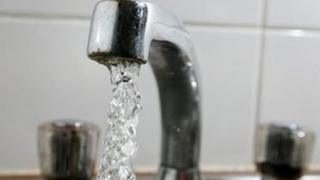 Scottish Water has said it has restored supplies to parts of Dundee and Perthshire which have been without water.
The company said up to 3,000 households in the DD2 and PH14 postcode areas had been affected after a faulty valve disrupted supplies to the main water network.
The problem was first reported at about 05:30 in western parts of Dundee.
Scottish Water said it apologised to customers for the inconvenience caused.
A spokeswoman said: "We have carried out a repair this morning to a faulty valve on our network which had been potentially affecting water supplies to more than 2,000 properties in the DD2 and PH14 areas.
"Water has been flowing back into the network since 8am and most, if not all, customers should be back in water.
"We would like to apologise for any inconvenience this may have caused."