Warm summer adds to rescue numbers for RNLI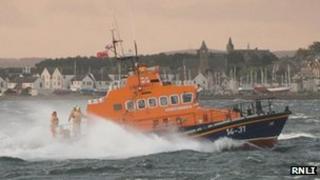 There were more than five lifeboat launches a day during the summer, according to figures released by the RNLI.
The charity said its rescue boats put to sea 476 times during June, July and August.
The busiest Scottish station was Broughty Ferry at Dundee. Its two boats launched a total of 43 times compared with just 23 the previous year.
The charity said the busy period was in part due to the warm summer.
Dave Martin, Broughty Ferry's lifeboat operations manager, said: "It's been a very busy time for us due mainly to the good weather with more people using the water and we thank employers for allowing the volunteer crew time away from work to help people in distress.
"The public are becoming more vigilant and aware of reporting incidents to the coastguard who in turn ask the RNLI to launch lifeboats."
Tobermory was the busiest all-weather lifeboat station with one lifeboat having 22 shouts, a rise of six on 2012.
'Distressing tragedy'
Queensferry was the busiest inshore lifeboat station, up from 21 to 26 shouts.
Notable increases included the number of launches for the two boats at Arbroath, up from seven to 27.
RNLI lifeguards also operated in Scotland for the first time, at Coldingham on the east coast. They dealt with five incidents, 44 minor first aid treatments, and four missing people.
Andy Clift, Scotland's regional operations manager, said: "We can not fault the professionalism and commitment of our volunteer crews who turn out at a moment's notice 24/7 to help other people in distress, and this is particularly notable when we have long shouts in Scotland lasting several hours.
"One such shout was the distressing tragedy when the helicopter ditched near Shetland, and our crews from Aith and Lerwick spent many hours helping other organisations to search for survivors, and recover wreckage."