Bloody Scotland event in Stirling a huge success'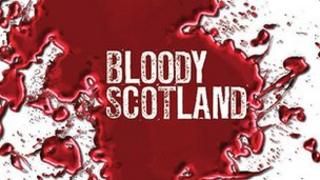 Ticket sales for the Bloody Scotland festival, which celebrates the best in international crime writing, have risen 42% in a year.
Organisers said 5,406 tickets were sold for the Stirling-based festival, compared with 3,782 for its first year, held in 2012.
The festival, which took place last weekend, featured a line-up of 48 crime writers across 35 events.
Among them were Christopher Brookmyre and Norwegian author Jo Nesbo.
Organisers hailed the event a "huge success" as they announced next year's gathering will take place on 19-21 September.
Festival manager Dom Hastings said: "Bloody Scotland was a massive success in attracting a stellar line-up of authors, with over 5,400 tickets issued over the weekend.
"In just two years, the event is well established in the cultural calendar. We would like to thank our authors, fans, sponsors and volunteers, as with their support, the festival has grown significantly this year.
"Bloody Scotland will return to Stirling on 19-21 September 2014. We will continue to develop the festival, making it even bigger and better than before."