Dart Energy issues legal threat over Richard Dixon tweets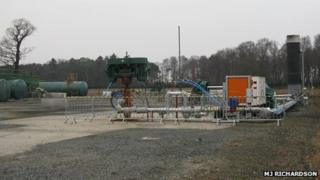 A company looking to extract gas from coal beds near Falkirk has threatened legal action against a board member of the Scottish Environment Protection Agency.
Dart Energy threatened proceedings against Dr Richard Dixon over five tweets he sent criticising the company.
Dr Dixon is also the director of Friends of the Earth Scotland.
The energy firm accused Dr Dixon of a conflict of interest and warned he should delete the tweets.
The company lodged a planning application last year with both Falkirk and Stirling Councils to drill at 14 sites in Airth and in the Forth Valley.
The firm also wants to build a water and treatment plant.
The plans have attracted several hundred complaints.
Since then Dart Energy has asked the Scottish government to rule on the plans instead of the local authorities.
In a letter to Dr Dixon at Friends of the Earth, the company said: "These tweets include links to news stories regarding Dart energy's application to develop coal bed methane production at Airth and an image using the Dart Energy logo but changing it to read 'Daft Energy: You'd be daft to invest in us'.
"Furthermore you have tweeted a link to the Friends of the Earth website commenting that Dart Energy are making 'desperate' attempts to raise finance in Australia to pursue 'unconventional' gas extraction project, including at Airth."
'Declare an interest'
The letter added: "We find it deeply troubling that as a board member of Sepa you are making these comments on a public forum such as Twitter."
The letter warned Dr Dixon to have no involvement in any consultation to do with Dart's activities, to remove the tweets from his Twitter feed and to refrain from posting anything similar.
In response, Dr Dixon said he would "never venture to express an opinion as a Sepa board member on Twitter".
He added: "I have always declared an interest if an issue Friends of the Earth Scotland are actively working on appears in the agenda or papers of a Sepa board meeting - in the unlikely event that the Sepa board were to have a detailed discussion of the current proposal from Dart Energy, I would declare an interest and not take part in that discussion.
"My role as director of Friends of the Earth Scotland and as a board member of Sepa are entirely separate and, in the former role, I will tweet whatever I judge useful in furthering our campaign ends."
Personal letter
Dr Dixon said he would not be removing any tweets.
He told the BBC news website: "This is bully boy tactics that will not be successful. In fact it has backfired on Dart Energy because since yesterday the number of Twitter followers I have has gone up by 15%."
A spokesman for Dart Energy said the letter sent to Dr Dixon was intended as personal.
He added: "That Richard Dixon has chosen to widely publicise the 'private and confidential' correspondence as an attack on Friends of the Earth Scotland amply demonstrates the acute level of his personal antipathy towards Dart Energy and is further evidence of why we questioned his conflicted position with regard to discussions about Dart Energy's licences as a board member of Sepa."
In a statement, Sepa said it was aware of Dr Dixon's association with FoE Scotland and that a full list of all its board members' interests was on its website.
The statement added: "Dr Dixon, like all board members in public bodies, has a duty to ensure that any interests are declared openly. These are recorded on our website and, if applicable to what is being discussed, at each board meeting."