Stirling unveils 2014 Year of Homecoming events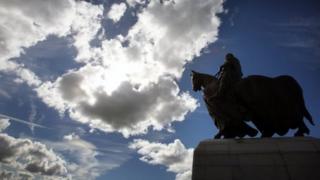 Stirling has unveiled a programme of events aimed at putting the city at the heart of Scotland's 2014 Year of Homecoming.
Among the 170 attractions on the list was Bannockburn Live - a major event marking the 700th anniversary of the famous battle.
The programme will kick off with the annual Hogmanay celebrations and fireworks on the castle esplanade.
And the city will also host the National Armed Forces Day.
Other major events will include the Bloody Scotland International Crime Writing Festival, the Spirit of Stirling Whisky Festival, the Stirling Fringe and a Ryder Cup exhibition.
There will also be a huge variety of sporting events, Highland games, concerts, shows and galas.
'Modern city'
Provost Mike Robbins said: "Stirling will be at the very heart of Scotland's 2014 Year of Homecoming.
"Stirling 2014 is a fabulous mix of events, including major national celebrations, and we look forward to welcoming visitors from all over Scotland, the rest of the UK, and overseas.
"Stirling is a vibrant modern city with an astonishing history and is surrounded by some of the most beautiful countryside in Scotland.
"The events lined up for next year will give visitors and residents the chance to experience all we have to offer, from cultural and historical celebrations to sporting events and community-based activities."
Mike Cantlay, chairman of national tourism agency VisitScotland, said: "2014 presents a fantastic opportunity to celebrate all that's great about Scotland and place the spotlight on our greatest assets and icons.
"Stirling sums this up perfectly with its dramatic contrast of historical attractions set within a modern cosmopolitan culture.
"The variety of events unveiled today combined with Stirling's spectacular backdrop of art galleries, monuments, shops, cobbled streets, museums and the iconic castle itself, will ensure there is something for everyone to enjoy in 2014."