TV director repeats drink driving offence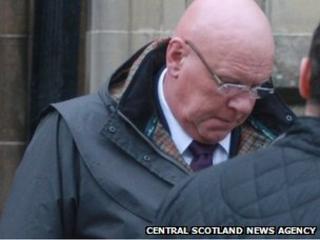 A man who directed a string of popular television programmes, including the Bill and Poirot, has been convicted of drinking and driving for a fourth time.
Peter Barber-Fleming, 60, from Dunblane, admitted driving with no insurance or licence after being banned from driving in 2012 for five years.
He was caught behind the wheel of his Saab 9-3 convertible on 17 August on the B8033 Kinbuck to Braco Road.
Stirling Sheriff Mark Stewart delayed sentence until 9 October.
The court heard that Barber-Fleming, who also worked on shows including Taggart, Mortimer's Law and Casualty, was more than twice the legal alcohol limit when stopped.
'Worrying pattern'
After avoiding a prison sentence in March 2012 for driving while over the limit, he had said: "I won't be driving again. I know I put people at risk, this could ruin my career."
However, the award winning programme-maker, who is also an honorary professor at the University of Stirling, was back in the city's sheriff court on Friday.
His solicitor, Colin Dunipace, said: "He pleads guilty. My Lord will see a certain pattern to the offending.
"I think this is a case where background reports will be needed. He is under a period of disqualification."
Sheriff Stewart said: "I see he is disqualified for five years.
"You will understand that the previous convictions and the current complaint are starting to show a worrying pattern in relation to your driving and your drinking.
"In those circumstances I will obtain a report to tell about your background, which will include your drinking.
"I will defer sentence."