First phase of £43m Helix project set for weekend opening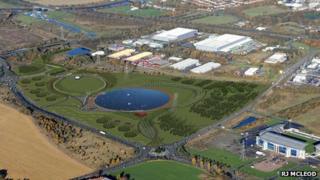 The first phase of a £43m project to transform an area of industrial land into an award-winning public space is being unveiled this weekend.
When completed, the Helix at Falkirk will consist of more than 350 hectares of green space, pathways, a visitor centre and public art installations.
The first section, known as Helix Park, will be opened on Saturday at 13:00.
The park features a 200m wide lagoon, a Great Lawn - capable of hosting up to 12,000 people, and a splash play area.
On Saturday, visitors will be able to see the assembly of a 9m tall tree sculpture, known as The Wynden Tree, on the Great Lawn.
'Popular attraction'
The work, designed by artist Alex Rigg, was created with the help of school and community groups around Falkirk.
Mike King, programme director for The Helix, said: "It was important for us to have local input into the development of Helix Park.
"We want the people of Falkirk to be proud of their new green space and use it as often as they can.
"The Wynden Tree will look fantastic and we're sure it will be an eye catching and a popular attraction on Helix Day."
By spring 2014 the Helix, which links an area of land between Falkirk and Grangemouth, will consist of four different zones.
These will include a waterside cafe, an array of colourful flora and fauna and a new link into the Forth & Clyde Canal.
The centrepiece will be a pair of 30m tall steel horse heads, known as Kelpies, by the artist Andy Scott. The sculpture will also include a visitor centre.