International response to River Tay body appeal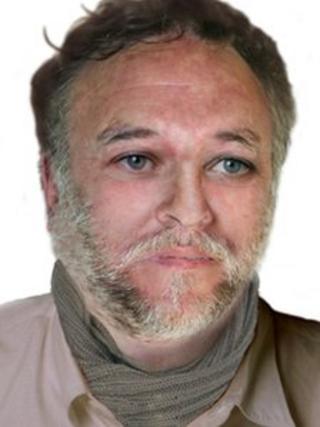 Police trying to trace the identity of a man whose body was found in the River Tay last week have described the public response as encouraging.
An artist's impression of the man was released by officers on Thursday.
The image has prompted calls, emails and social media messages from the UK and abroad, Police Scotland said.
The man was pulled from the water on 6 September after being spotted by a member of the public.
Experts in craniofacial identification created an image of the man - showing him with dark brown hair, a greying brown beard and moustache.
He was about 6ft tall and had a stocky build and appears to have blue eyes, although detectives said the precise colour may have been different in life, as the colour can change after death.
At the time his body was discovered, he was wearing a red Montane waterproof jacket with a hood, a Mountain Life beige coloured long sleeve shirt, a woollen snood around his neck, black Dunlop fingerless cycling gloves, green Mountain Life hiking style trousers, dark coloured socks but no footwear.
'Retail outlets'
Among his possessions were orange ear plugs with a small plastic case, four keys, a red plastic hair comb, a small Alpbach white pen knife, a Seiko silver metal wrist watch and a pair of large black plastic sunglasses.
DC Keith Stockton said: ''People have been very quick to get in touch, not necessarily to offer a possible name or address for the man, but to say they think they have seen a man who looks similar, or wears similar clothes and where they have seen him before.
''We've had people get in touch to suggest what outdoor pursuits he might have been interested in and to name possible retail outlets where his clothing might have been bought.
"Someone even got in touch from Thailand with information about clothing. We are very grateful to all of them and are following up on what they have told us."
DC Stockton said the force still do not know who the man was or where he was from.
He added: "Clearly it would help our enquiries enormously if someone were to provide a name and address - but we want people to keep getting in touch with any scrap of information they have no matter how insignificant they feel it might be.
"It could be the detail that helps us make a breakthrough.''