'Easy' caber replaced at Pitlochry Highland Games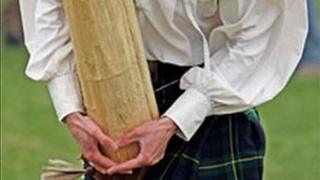 Organisers at a Highland games in Perthshire have been forced to find a new caber after complaints that tossing the old one was too easy.
It comes after all those who took part in last year's Pitlochry Games managed the feat without difficulty.
That caber measured 17ft (5.2m) and weighed 92lbs (41.7 kg).
However, competitors attending Saturday's Highland Games in the town will have to toss a new longer heavier caber.
Heavy events convenor at the games Raymond McIntosh said: "It's genuinely too light.
"Collectively in north Perthshire there's an ongoing competition throughout the year and this has created more competition between all the heavy athletes so the standard of competition has increased tremendously."
He added: "And now - well last year - they all tossed the caber with some ease unfortunately."
The object of the caber toss is to flip the pole so that it lands directly opposite the competitor at a '12 o'clock' position and not, as is widely believed, simply to throw it the longest distance.
Mr McIntosh said the ease of the challenge had led to organisers tracking down a new caber for the job.
He said: "It's a little bit like a group of people constantly throwing 180 on a dart board. If they can all do it, there is no game of darts.
"So if you can all do a 12 o'clock toss on the caber there's no competition."