Blanefield residents left with arsenic and lead cleanup bill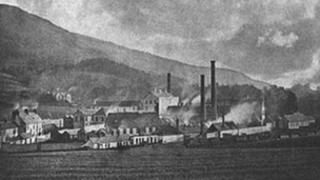 Hopes that residents of a Stirlingshire village would avoid paying huge costs to remove arsenic and lead from their gardens are fading.
Thirteen residents in the village of Blanefield face a combined bill of £633,000 to remove the contamination.
It was discovered last year following a routine environmental check of their gardens by Stirling Council.
The UK government has said it will not waive tax costs associated with the cleanup of their properties.
The ground that the homes were built on was previously occupied by a Victorian calico print works, which was closed at the end of the 19th Century.
When developers built the current properties on the site in the 1950s no contamination was recorded.
It was not until a routine sample of the land was taken by the council last year that the arsenic and lead were discovered.
They concluded that the contamination presented a "significant possibility" of harm to human health.
Since then, investigations by the local authority to identify the persons responsible for the contamination at Blane Avenue, Blane Crescent and Blane Place have proven fruitless.
The situation has resulted in the 13 residents, who now own the properties, being made financially responsible for the area's cleanup.
Local MP Anne McGuire pressed the UK Treasury Minister Sajid Javid during a House of Commons debate this week to put in place measures exempting the residents from landfill tax and VAT for the cleanup operation.
Mrs McGuire said the taxes were adding up to 79% onto the costs payable for some of the 13 residents.
'Fundamental change'
She said: "These people have found themselves in a predicament not of their making and one which has huge financial implications for them and their families and the impact on the lives of those residents, many of whom are elderly, has been devastating."
Mr Javid said that while he sympathised with the residents, who through "no fault of their own" faced the huge costs, he could not exempt them from the tax.
He said: "It would not be possible for the contaminated land in this particular case to be exempt from landfill tax and value added tax."
The minister continued: "That would require a fundamental change to the structures of the tax requiring amendments to primary legislation."
Mr Javid said the issue would be best resolved at local level.
However, he has agreed to meet Mrs McGuire to discuss the residents' predicament further.
Stirling Council has so far agreed to pay £125,000 towards the cleanup of the contaminated land.