Solicitor Christopher Pope lied over wife's drink driving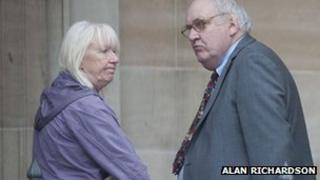 A solicitor who lied to police in order to protect his wife from a drink driving charge has been electronically tagged.
Christopher Pope, 65, told officers he was driving when he and his wife Moira went out in Dundee on 27 March 2012.
The court heard that staff at Cambustay restaurant alerted officers after seeing Moira Pope get behind the wheel despite drinking two bottles of wine.
Sheriff Alasdair Brown said Christopher Pope should be tagged for three months.
The restriction of liberty order means the solicitor will be confined to his house in Brechin Street, Arbroath from 19:00 to 07:00 each day.
'Custodial sentence'
Moira Pope, 65, of Malcolm Crescent, Monifieth was banned from driving for a year and fined £500 for her part in the case.
During a three-day trial at Dundee Sheriff Court it emerged that Christopher Pope had told officers "it was me" when asked who was driving a Renault Scenic from the restaurant in the Barnhill area of Dundee.
Ann Mowat, a supervisor at the eatery, told the court: "We were aware of how much she had to drink.
"The lady got behind the wheel and drove off after having two bottles of wine.
"We were standing at the window watching."
Pope was convicted of attempting to pervert the course of justice, while his wife Moira was found guilty of driving under the influence of alcohol.
Sheriff Alasdair Brown said: "Attempting to pervert the course of justice is always serious and will often attract a custodial sentence.
"But I am able to step away from that in your case."