Russell Crowe battering ram targeted by thieves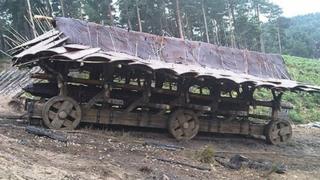 A battering ram gifted by the actor Russell Crowe to a Scottish charity has been vandalised.
The prop, nicknamed Rosie, forms part of a medieval fort being created by the Clanranald Trust in the Carron Valley.
Thieves stole eight of the prop's large distinctive shields along with 12 of its pushing arms.
The trust said the theft took place between Saturday 7 September and Sunday 8 September. They have asked for anyone with information to come forward.
Margaret McEwan from the trust said it was difficult to put a value on the items stolen.
She said: "The canvas shields are large, each measuring about 120cm. It would have taken effort and organisation to move them and the 12 pushing arms.
"It's left Rosie naked and means she's not being shown off to her full advantage."
The pieces that were stolen were part of the original battering ram used in the film Robin Hood, starring Russell Crowe.
The Oscar-winning actor visited the project at Duncarron on a trip to Scotland two years ago after befriending the trust's chief executive Charlie Allan on the set of Gladiator.
The battering ram has only been on show to the public since 17 August, during which time it has attracted more than 3,000 visitors.
However, Ms McEwan said the theft would not stop the trust's commitment to the project.
She said: "We will ramp up security and put more defensive measures in place.
"We also have people watching to see if any of the items come up for sale."